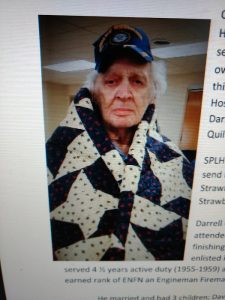 On February 10, 2018, the Strawberry Point Lutheran Home and RMC Hospice honored Darrell Smith with a pinning ceremony for his years of service in the US Navy and Heartland Quilters presented him with his own Quilt of Valor. Darrell was surrounded with family and friends for this grand honor. Rick Linderwell, a veteran and volunteer for RMC Hospice, led the pinning service and presented the pin and hat to Darrell. Ruth Elsbury and Marlene Gould, members of Heartland Quilters led the Quilt of Valor ceremony.
SPLH would like you to meet Darrell through his story and if you wish to send him a card of thanks or congratulations please send it to Strawberry Point Lutheran Home % Darrell Smith 313 Elkader St. Strawberry Point Iowa 52076.
Darrell Clarence Smith was born August 24, 1936, in Waterloo Iowa and attended East Waterloo High school. He worked at John Deere while finishing school and continued his career for the Railroad. Darrell enlisted in the US Navy in 1955 and was stationed in Norfolk, NC. He served 4 ½ years active duty (1955-1959) and 4 years in reserves (July 10, 1959- July 12, 1963). He earned rank of ENFN an Engineman Fireman 3rd Class.
He married and had 3 children; David, Darren, and Dawn, later he divorced. Darrell worked at Ball Glass Company for 25 years before he retired. Upon retirement he occupied his time working as a handy man for a local convenience store chain. In 1989, he returned to Iowa to care for his mom and step dad. In 1991, Darrell increased the size of his family by marrying his wife, Sharon, and gaining two step children. His family has grown to include 8 grandchildren and 11 great grandchildren.
Darrell enjoys HO Model Trains and circus things. He made many items to go with his trains. Darrell's eye site deteriorated and he is unable to build sets any longer. He enjoyed traveling to North Carolina to see his kids, grandkids, and great grandkids. He also enjoys every moment with his grandkids and great grandkids here in Iowa.